2020 Kia Telluride: Thrilling Ride with Great Features and Tech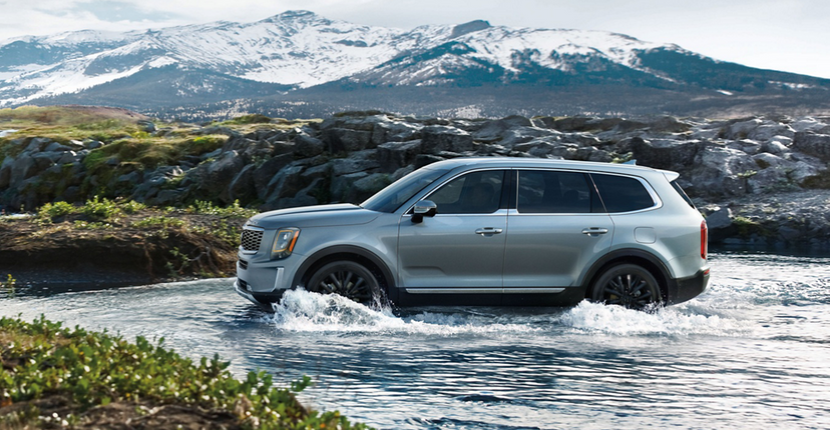 The 2020 Kia Telluride is the largest and the best vehicle Kia has ever built. This SUV has a modern upscale interior jam-packed with modern technology, high-quality materials, and can comfortably seat 8.
There are four trims available: LX, S, EX, and SX. All are available with front-wheel drive or active on-demand all-wheel drive. The LX trim is the only trim that comes in the eight-passenger configuration. The S trim has standard seven-passenger seating or optional 8-passenger seating. The EX trim has a standard eight-passenger with the optional seven-passenger seating. The SX trim comes only in the seven-passenger configuration.
The Kia Telluride has a lot of cabin room, obviously being able to fit up to 8-passengers, with plenty of head and legroom for adults. With the seats up, the Telluride has 21 cubic feet of storage in the back. With all the seats down, the Telluride now has an amazing 87 cubic feet of storage.
Drive mode options include Smart, Eco, Sport, and Comfort. All Telluride models are powered by a 291 horsepower V6 engine producing around 262 lb-ft of torque paired with an eight-speed automatic transmission.
With front-wheel drive, fuel economy ratings are 20mpg city, 26mpg highway, and 23 mpg combined. AWD ratings are 19mpg city, 24mpg highway, and 21mpg combined.
Standard equipment on the base LX trim includes Keyless Entry and ignition, Adaptive Cruise Control, Auto Headlights, Remote Start, Rear Parking Assist, leather upholstery, backup camera, heated power mirrors, and more. The 8-inch infotainment system includes Apple CarPlay and Android Auto, a six-speaker sound system, and 6 USB ports.
A to-be favorite feature is Quiet Mode, which restricts audio output to the front row and Driver Talk, which projects the driver's voice through the rear speakers.
Standard driver-assist features include Blind-Spot Monitoring, Automated Emergency Braking, Lane-Keep Assist, Rear Parking Sensors, and more. Another cool feature that is available in the Telluride is a feature that prevents the rear doors from being opened if there is a vehicle that is approaching from behind.
The Kia Telluride is Kia's largest SUV to date. It's a large midsized SUV with premium features and technology that handles like no other. Kia has time and time again proven that it can compete with the industry's best. Shop the all-new 2020 Kia Telluride at Raymond Kia Antioch. Raymond Kia is an Antioch Kia dealer near you that has a great selection of Telluride's available. If you are interested in an SUV and not sure about the Telluride, fret not we have a wide variety of other Kia SUVs that are available, such as the Kia Sportage, Kia Sorento, or Kia Niro! Stop by a Kia dealer near me for more information or to test drive an SUV today!