Sit In the Lap Of Luxury: 2023 Kia Telluride Interior
The 2023 Kia Telluride is more than just a stylish and attention-grabbing SUV. It offers a world of comfort, convenience, and elegance within its interior. With an impressive rise in sales and over 100,000 units sold in 2021 alone, it's clear that the Telluride has captured the hearts of drivers seeking a seductive combination of style and substance. Check out the luxurious 2023 Kia Telluride interior now at Raymond Kia! 
Design Details of the 2023 Kia Telluride
The 2023 Kia Telluride has been meticulously designed to cater to the desires of discerning drivers. The design principles of the Telluride extend to every aspect, ensuring that every button and switch is thoughtfully placed for easy access without distraction. With an expansive windshield and a low-set dashboard, visibility is maximized, enhancing the overall driving experience. See for yourself in the 2023 Kia Telluride images below! 
2023 Kia Telluride Dimensions: Space for Everyone
Step inside the 2023 Kia Telluride, and you'll discover a spacious and accommodating interior. The seating in all three rows is generously proportioned, offering ample head and legroom for both front and second-row passengers. Even the third row provides enough space for adults, making it comfortable for up to eight occupants. Whether you're embarking on a family road trip or carpooling with friends, the 2023 Kia Telluride configurations offer a comfortable and spacious interior that accommodates both passengers and cargo with ease.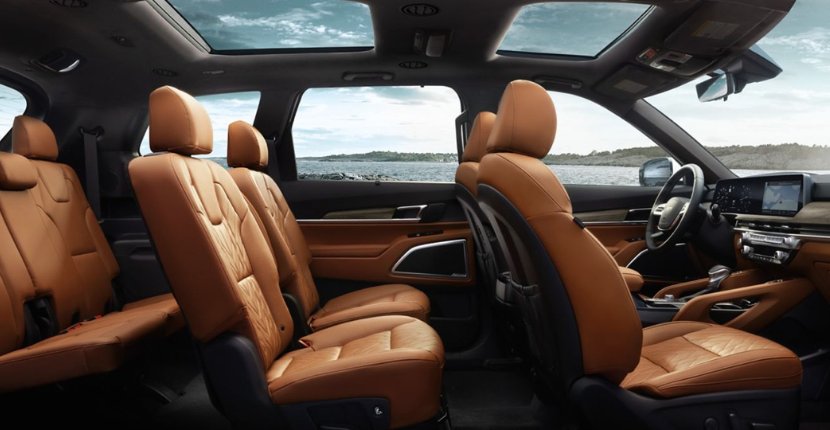 Premium Materials: Embracing Luxury and Comfort
Luxury and comfort go hand in hand within the 2023 Kia Telluride's interior. The seats are upholstered with supple Nappa leather, exuding elegance and sophistication. Soft-touch materials adorn the armrests and door panels, further enhancing the upscale ambiance. The leather-wrapped steering wheel adds a touch of refinement, elevating the overall aesthetic.
Enhanced Comfort and Convenience
The 2023 Kia Telluride takes comfort and convenience to new heights. With Nappa leather seating trim available in five 2023 Kia Telluride interior colors, you can personalize your interior to suit your style. Heated and ventilated captain's chairs in the first and second rows offer optimum comfort during long journeys. The dual-zone climate control system ensures that every passenger stays comfortable, regardless of outside temperatures. The power-adjustable driver's seat with two-way lumbar support allows you to find your ideal driving position, promoting comfort on extended road trips. Plus, the 2023 Kia Telluride panoramic sunroof creates an airy atmosphere, offering panoramic views to occupants.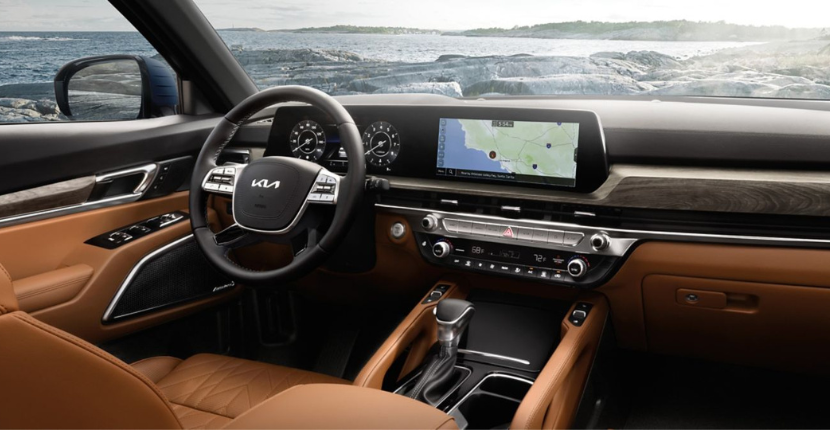 Infotainment and Connectivity: Stay Connected on the Go
In our interconnected world, staying connected while on the move is crucial. The 2023 Kia Telluride ensures you remain connected and entertained with its advanced infotainment and connectivity features. The centerpiece is a 12.3-inch dual panoramic display, serving as both an instrument cluster and an infotainment system. 
Apple CarPlay and Android Auto capability allow effortless integration of your mobile device with the infotainment system. The built-in in-dash navigation system ensures that you never lose your way. The audiophile-friendly 10-speaker Harman/Kardon audio system transforms every ride into a musical experience. Additional conveniences include a 110-volt power inverter, a Qi wireless smartphone charging pad, and a Driver Talk intercom system that allows the driver to communicate with passengers in the second and third rows.
Visit Raymond Kia!
At Raymond Kia, we're your destination for a great selection of new 2023 Kias and used Kias, as well Kia service. We treat our customers like family. We here at Raymond Kia treat our customers like family. Knowing how we can make your Kia dealership experience with us even better than ever is at the heart of our business. As car owners, we know the kind of service that we expect. Whether it is buying the all-new EV6 or taking your car in for routine maintenance or repair, we are a Kia dealer that you can trust. Visit us to test drive the new Telluride today!