EV6 Wows at the Chicago Auto Show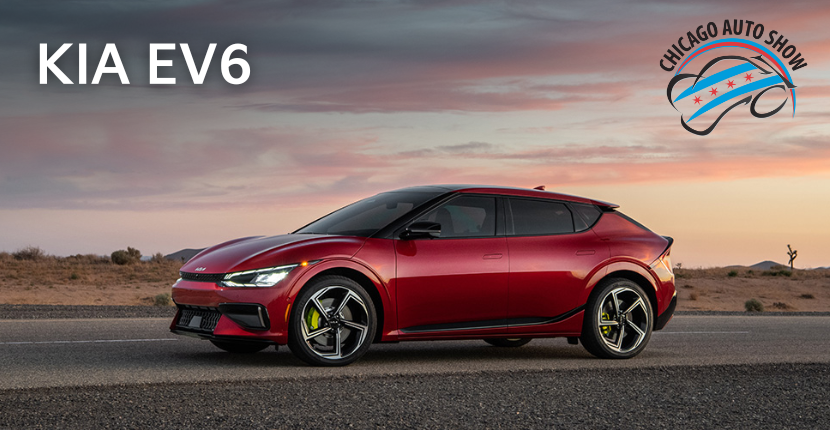 The all-new EV6 is Kia's first electric motor SUV without a gas-powered or hybrid counterpart. The performance EV6 gets up to 300 miles on a single charge, giving it great fuel economy. On top of that, the EV6 will solve one of the typical pain points of EVs by offering the 800-volt system, which allows it to go from a 10 percent charge to 80 percent in less than 20 minutes. Recently, we got up close and personal with the EV6 at the 2023 Chicago Auto Show!
Introducing The Kia EV6 
The 2023 Kia EV6 price starts at just $48,500, plus it gets up to 300 miles on a single charge. It also features excellent cargo room—up to 50.2 cu. ft. of maximum cargo space—and comfortable seating for 5 adults. 
It's all electric power will take you further. The EV6 Kia produces 320 horsepower and 446 lb.-ft. of torque on the Wind and GT-Line AWD model. With a low center of gravity and multi-link rear suspension, the EV6 offers outstanding handling. Featuring driver-centric connectivity, the Kia EV6 interior includes standard dual panoramic displays with navigation and SiriusXM Satellite Radio, and augmented reality head-up display, a standard Meridian Premium audio system, and a standard onboard power generator. 
Kia EV6 Named "Best EV of 2022"
The Drive's inaugural awards distribution recognized the Kia EV6 as the "Best EV of 2022." The Drive's high praise for the EV6 focuses on its styling, driving dynamics, occupant comfort, and all-electric range. Additionally, the EV6's 300 mile range, long battery life, fast charging, and spacious interior helped it stand out in the electric-vehicle segment. The EV6 was selected from among the top-ranked electric cars as determined by the editors of The Drive in the last 12 months of vehicle evaluations.
Looking for a Kia EV6 review? Kyle Cheromcha, editor-in-chief of The Drive, said:
Our team has been consistently and extremely impressed with the Kia EV6—the level of thought and care that went into crafting a more approachable and affordable electric vehicle is obvious. It's got head-turning design, a usable range, excellent performance and handling, and a great suite of advanced driver assistance features. And to have all of that protected by an exceptional factory limited warranty—this is the kind of car that actually gets people to switch to an EV, instead of merely considering it.
Visit Raymond Kia!
At Raymond Kia, we're your destination for a great selection of new and used Kias, as well as service. We treat our customers like family. Knowing how we can make your Kia dealership experience with us even better than ever is at the heart of our business. As car owners, we know the kind of service that we expect. Whether it is buying the all-new EV6 or taking your car in for routine maintenance or repair, we are a Kia dealer that you can trust. Stop in to test drive the 2023 EV6 today!