Kia EV6 vs. Niro EV: Which Electric Kia Model Is Better?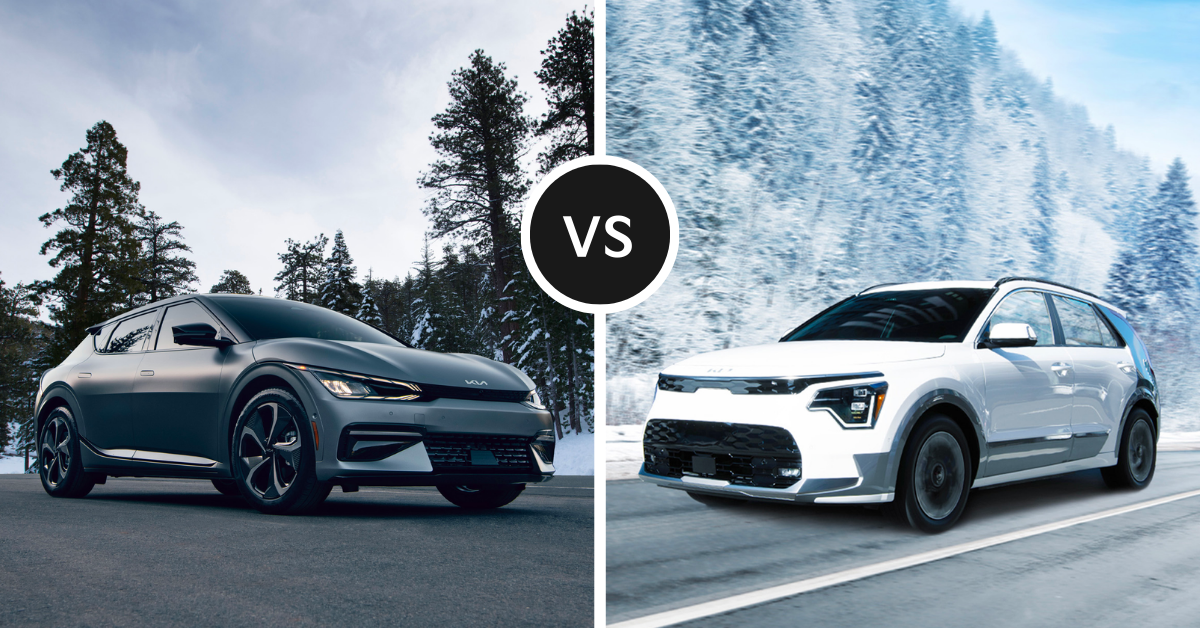 The Kia EV6 and the Kia Niro EV have been making headlines as exciting new additions to the automaker's lineup. Kia's first electric SUV, the Kia EV6, was released as a flagship EV without a gas-powered or hybrid counterpart. Since its debut in 2021, Kia has also released the Niro EV, which underwent a significant redesign and offers an innovative electric driving experience. With both of these electric models offering a variety of great features, we've broken down the key differences between them in a side-by-side comparison.

Connecting With the Kia EV6
With a starting price of $48,500, the stylish 2023 Kia EV6 is a combination of thrilling looks and excellent "fuel economy," getting up to 300 miles on a single charge. On top of that, the EV6 solves one of the typical pain points of EVs by offering the 800-volt system, which allows it to go from a 10 percent charge to 80 percent in 18 minutes. It also features an excellent cargo space—up to 50.2 cu. ft. of maximum cargo space—and comfortable seating for 5 adults.
Its all-electric power will take you further. The EV6 produces 320 horsepower and 446 lb.-ft. of torque on the Wind and GT-Line AWD model. With a low center of gravity and multi-link rear suspension, the EV6 offers outstanding handling. Featuring driver-centric connectivity, the EV6 includes standard dual panoramic displays with navigation and SiriusXM Satellite Radio, an augmented reality head-up display, a standard Meridian Premium audio system, and a standard onboard power generator.

Electrifying the Kia Niro EV
The all-new 2023 Kia Niro EV—also available as a plug-in hybrid—offers the comfort and confidence you need for the road ahead with front-wheel drive traction, available Highway Driving Assist with semi-autonomous hands-on driving capabilities, and up to $7,500 in federal tax credits. With its new electric motor, the Niro EV has a projected range of 253 miles and a 10-year 100,000-mile battery pack warranty. On top of all that, standard DC Fast Charging adds approximately 100 miles in just 25 minutes.
The Niro EV is also equipped with Kia Drive Wise, which is a collection of twenty standard collision avoidance and safety assist features. These safety features include collision avoidance, highway driving assist, and remote smart parking assist.
Choosing an Electric Kia Model
Both electric Kia SUV models offer a variety of award-winning features. The Kia EV6 was named the "2022 Car of the Year" in the prestigious Car of the Year (COTY) awards, while the Kia Niro EV was awarded the top spot in the J.D. Power 2022 Electric Vehicle Experience Ownership Study. With both vehicles receiving accolades from distinguished sources, deciding between the Kia EV6 and Kia Niro EV is a difficult choice that often is determined by a driver's needs and preferences—, design, pricing, performance, etc.
The 2023 Kia Niro EV is ideal for drivers that prefer an elegant yet understated design, require a larger interior space, and intend to charge at home for day-to-day use. On the other hand, the 2023 Kia EV6 is more optimal for drivers who don't mind spending a bit more for enhanced efficiency and more powerful performance. In addition, the EV6 will likely be more appealing to customers that prefer a bolder design or require a vehicle that can charge in under 20 minutes.
Visit Raymond Kia!
At Raymond Kia, we are excited about the future of Kia's electric cars and SUVs! Hopefully, the side-by-side comparison of these two Kia EV models helped you to learn more about their different features and options. However, we always recommend that you schedule a test drive to determine the electric vehicle that will best fit your lifestyle and needs. If you are interested, we have a great selection of Kia EV6 and Kia Niro EV models available now. Contact us or visit our dealership today for more information.