The All-New 2023 Kia Niro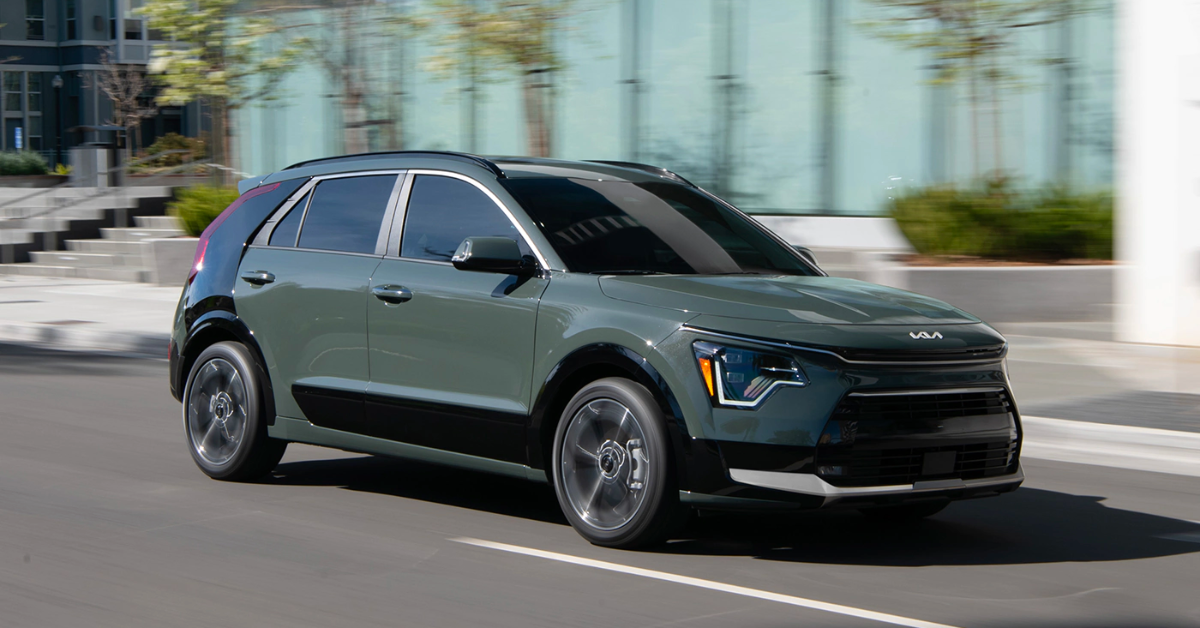 Electrify your drive with the all-new 2023 Kia Niro EV. The Niro EV will debut alongside the Niro Hybrid and Niro Plug-in Hybrid at auto shows soon. With three options to choose from, the all-new 2023 Niro family offers an innovative driving experience. Redesigned inside and out, the Niro offers best-in-class fuel efficiency, front wheel drive, spacious seating, a larger cargo space, and a driver-centric interior with premium features. Check out the 2023 Kia Niro now at Raymond Kia!
2023 Kia Niro EV
The all-new Niro EV offers the comfort and confidence you need for the road ahead with front-wheel drive traction, available Highway Driving Assist with semi-autonomous hands-on driving capabilities, and up to $7,500 in federal tax credits. It has a projected range of 253 miles and a 10-year 100,000-mile battery pack warranty. And standard DC Fast Charger adds approximately 100 miles in 25 minutes. 
2023 Kia Niro Hybrid 
Get the Hybrid experience with the all-new 2023 Niro Hybrid. It offers a premium ride that's built for the long haul with best-in-class fuel economy, 14 Collision Avoidance and Safety Driver Assistance features, and an updated suite of cutting-edge tech, including the ability to share your key via text, making ride sharing easier than ever. It features expected 53 MPG combined, driver-centric Dual Panoramic Displays, and the most spacious interior in its class. 
2023 Kia Niro Plug-in Hybrid 
The all-new 2023 Niro Plug-in Hybrid gives you power when you need it. With the all-new Niro Plug-in Hybrid, you'll have the freedom to use both a gas engine and an all-electric motor when you want it. Enjoy a premium ride with impressive fuel efficiency, 14 standard Collision Avoidance and Safety Assist features like Lane Keeping Assist, a longer all-electric range, and a spacious interior that is designed for comfort and utility. You'll go further with fewer fill-ups with a projected fuel efficiency of 105 MPGe2 or drive electric when you want with a 33-mile all-electric range. Saving you even more, this model is eligible $5,461 federal tax credit as well as local incentives. 
Elevated Interior 
Your driving experience will be elevated with the Niro's premium interior. Available Dual Panoramic Displays provide a driver-centric infotainment system with a touchscreen interface for navigation, diagnostic, convenience, entertainment, and immersive vehicle information features. You'll get wireless Apple CarPlay and Android Auto to keep you connected out on the road. The Head-Up Display available on Niro EV gives you a clearer view of key safety and performance information, helping you keep your eyes focused on the road ahead of you.
Visit Raymond Kia!
Looking for a Kia Motors near me? At Raymond Kia, we're your destination for Kia Service, as well as new and used Kias near me. We treat our customers like family. Knowing how we can make your Kia dealership experience with us even better than ever, is at the heart of our business. As car owners, we know the kind of service that we expect. Whether it is buying a new Kia in Antioch or taking your car in for routine maintenance or repair at our Kia Service Center, we are a Kia dealer that you can trust. Visit us to learn more about the all-new 2023 Kia Niro EV now or schedule your test drive today!