Kia EV6 Owners to Get Limited Free Charging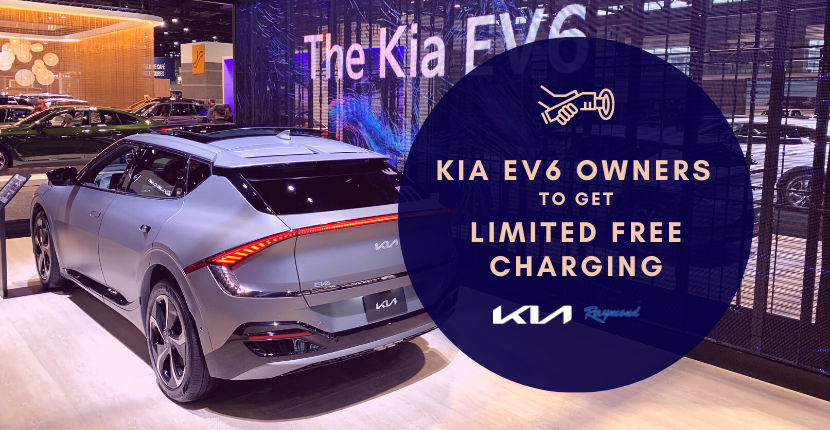 Kia America just announced that owners of the 2022 Kia EV6 will be provided with 1,000 kilowatt-hours (kWh) of complimentary charging on Electrify America's nationwide ultra-fast charging network. The electric future is coming. That's why Kia is helping you get there. Partnering with Electrify America, Kia created the Kia Charge Pass Program. It will allow EV6 drivers to access ultra-fast charging stations completely free. Learn more about all of the amazing features of the Kia EV6 now at Raymond Kia!
Kia and Electrify America 
Electrify America has more than 3,000 individual ultra-fast chargers across the country. By the end of 2025, it expects to have more than 1,800 total charging stations with over 10,000 individual chargers in the United States and Canada. Kia and Electrify America are bringing top-of-the-line charging capabilities to the EV6. Electrify American's chargers utilize the fastest technology available today—providing speeds of up to 150kW and 350kW for capable vehicles—to help reduce the amount of time spent charging.
A More Convenient Electric Experience 
With the new Kia Charge Pass Program, you'll get the peace of mind that comes with convenient access to a leading nationwide network of chargers. New owners of eligible Kia Electric models can take full advantage of their new vehicles, whether that be an impromptu trip across town or a long-distance road trip adventure. Eligible customers will have access to Electrify America's coast-to-coast fast-charging network for 1,000 kWh of free charging.
Charge in 20 Minutes or Less 
The all-new EV6 is Kia's first electric SUV without a gas-powered or hybrid counterpart, and it gets up to 300 miles on a single charge. With this impressive rating, it compares to the performance version of the Tesla Model Y electric crossover. On top of that, the EV6 will solve one of the typical pain points of EVs by offering the 800-volt system, which allows it to go from a 10 percent charge to 80 percent in less than 20 minutes. And now Kia fee charging just made the process so much easier. 

Visit Raymond Kia!
Looking for a Kia Motors near me? At Raymond Kia, we're your destination for Kia Service, as well as new and used Kias near me. We treat our customers like family. Knowing how we can make your Kia dealership experience with us even better than ever, is at the heart of our business. As car owners, we know the kind of service that we expect. Whether it is buying a new Kia in Antioch or taking your car in for routine maintenance or repair at our Kia Service Center, we are a Kia dealer that you can trust. Visit us to learn more about how to get free charging with your Kia EV6 now!