Electric Vehicle (EV) Certified Dealer!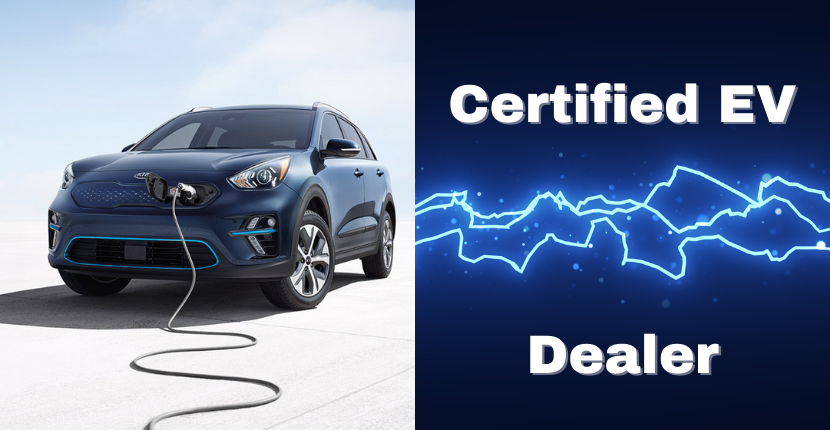 In the market for an electric vehicle? Raymond Kia is here for you as an Electric Vehicle (EV) Certified Dealer. The U.S. auto industry is shifting more and more toward electric vehicles. We're ahead of the game by being certified to sell new and used electric vehicles, as well as equipped to service them. Recently, Kia introduced the all-new Niro EV, which puts a new, more exciting spin on the typical electric vehicle. At Raymond Kia, you can find Kia electric car deals or used Kia's near me all the time. Visit us today!
EV Certified Dealer 
As an EV Certified Dealer, we're equipped with all of the necessary training and equipment to assist you with finding the right electric vehicle for you. Our sales team and service technicians have undergone extensive specialized training about electric vehicles. We can help answer any of your questions about the time of charging, battery time, or electric vehicle range of a specific electric car. 
Kia Service for Electric Vehicles
At Raymond Kia, you can receive excellent Kia service on your electric vehicle. From charging stations to specialized service bays, we can assist you with any repairs, updates, or maintenance your EV needs. Even including warranty repairs. 
Why Buy Electric? 
As more and more auto manufacturers introduce electric vehicles, you might be wondering if an electric vehicle (EV) is right for you. There are many great benefits to buying an EV that you might not know: 
Cost Savings
The biggest most obvious benefit of an EV is huge fuel cost savings. The average fuel savings for an EV owner is approximately $1,500 per year! You'll also save time at the gas pump with the ability to charge your vehicle from the comfort of your own home overnight. 
EVs also ensure lower maintenance costs. Unlike gas-powered vehicles, EVs don't have an engine that requires oil to lubricate. You'll no longer have to spend money or time getting an oil change every few months. Of the top 10 most costly car repairs, EVs don't have any of the items on the list. You will save tons.
Tax Breaks
Over time, EVs have become much more affordable. As consumer demand has increased and with government investment in EVs, auto manufacturers are offering more models at more affordable prices. Additionally, purchases of EVs are also eligible for up to $7,500 in federal income tax credit and some state tax credits that are meant to promote clean energy. 
Reduce Your Carbon Footprint
Driving an EV allows you to reduce your carbon footprint by eliminating harmful tailpipe pollutants such as particulates (soot), volatile organic compounds, hydrocarbons, carbon monoxide, ozone, lead, and various oxides of nitrogen. In the U.S., the average EV produces the emissions equivalent of a gasoline car that gets 100 miles per gallon or above. This means you can use your wallet to promote a healthier world for everyone. 
Comfortable Drive
EVs offer a smooth, comfortable driving experience. With a lower center of gravity, EVs offer better handling, comfort, and responsiveness. The vehicle's electric engine provides smooth acceleration and deceleration, giving you a quiet, pleasant ride. 
Niro EV
Offering all of the great benefits discussed above, the 2020 Niro EV is charging ahead in the electric revolution. It offers an EPA-estimated 239-mile range, and all the space, comfort, and versatility you'd expect from a crossover. 291 pound feet of torque means it's a pleasure to drive. Now is the time to check out EV Lease Deals!
Kia Dealer Near You
Searching for a "Kia Motors near me"? Raymond Kia is the perfect Kia dealership near you. Here, we treat our customers like family. Knowing how we can make your Kia experience with us even better than ever, is at the heart of our business! Visit us to learn more about EVs or schedule a Niro EV test drive today!