New 2017 Kia Niro Hybrid Offers 50 MPG Fuel Economy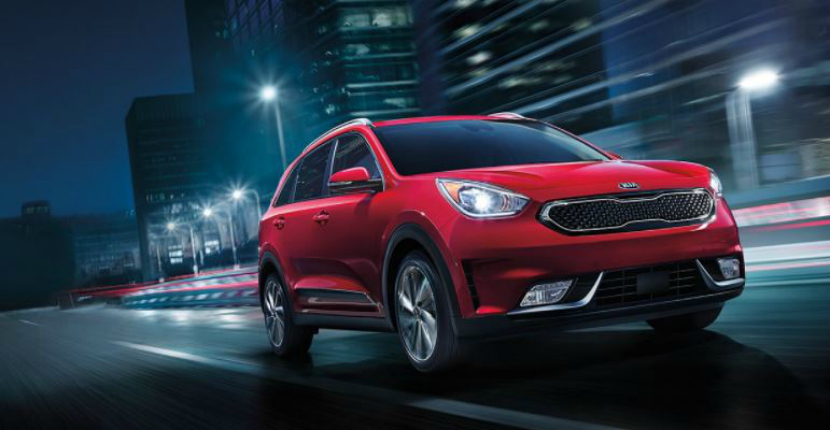 If you're in the market for a cool, sporty, fresh new compact hybrid SUV look no further than the 2017 Kia Niro Hybrid. This new Kia model is the epitome of sleek, modern efficiency and it's pretty easy on the eyes too.
Out of all the new Kia models for sale, this one might just be our favorite. The Niro hybrid offers bold, crossover style and utility alongside some truly exceptional fuel economy. At a combined fuel estimate of 50 mpg, the Niro is nearly unbeatable when it comes to efficiency.
When the Niro was unveiled at the Chicago Auto Show in December of 2016, car enthusiasts couldn't stop buzzing about it. Finally, a vehicle was arriving on the scene that satisfied customer's thirst for a hybrid-electric vehicle that is legitimately cool and fun.
"We're excited about the Niro," Orth Hedrick, vice president of product planning for Kia Motors America, said in an interview. "It's fantastic—exceptional fuel economy, great looks, the usefulness and security of a compact utility and it's fun to drive. The Niro really does set a new standard in the market." We happen to agree.
The Niro features an innovative hybrid system which makes use of a unique 6-speed dual clutch automatic transmission with Sport mode to provide a driving experience that Kia describes as "dynamic and engaging." The vehicle's cabin is spacious enough to suit growing families and singles on the go, with ample cargo space to store everything from groceries to camping gear.
Perfect for families and those with children, the Niro comes with an array of safety and driver assistance features. The vehicle's stable of safety tech includes an advanced high-strength steel structure, seven airbags, available Autonomous Emergency Braking (AEB), Blind Spot Detection (BSD), Rear Cross Traffic Alert (RCTA), Lane Change Assist (LCA) and Lane Departure Warning (LDW).
Under the hood, the Kia Niro continues to impress with its state-of-the-art 1.6-liter GDI four-cylinder engine which is specifically engineered for hybrid applications. The engine will get you up to 104 horsepower and best-in-class fuel economy with efficiency and emissions improved via the vehicle's exhaust heat recovery system. A 43-hp motor fits between the engine and the transmission and works alongside the gasoline engine to produce an impressive 139 horsepower and 195 lb-ft of torque.
But don't worry—the Niro has plenty of style to go along with all those impressive specs. Its design is strong, athletic and decidedly modern. And, of course, it comes with all the latest and greatest in modern technology, including Apple CarPlay, Android Auto, a Harman Kardon premium audio system, and a 7-inch touchscreen.
To find out more about the groundbreaking 2017 Kia Niro hybrid, visit us at Raymond Kia. No other Antioch Kia dealer will be as dedicated to ensuring you drive off in the right Kia for you—we guarantee it.